ABOUT TOWN
The town consists of about 90 shops (60 companies) from Nippori Station to Nippori Chuo Street. Those who enjoy fashion and handicrafts as well as manufacturers such as designers, apparel makers, artists, students, etc. visit the town looking for materials.
From the Taisho era to the end of the Showa era, this area was a wholesale district, where many dealers sold materials to venders from provincial areas. But as time passed, the number of retail shops increased.
More and more specialized shops which sell not only fabric materials, but also leather, clothing attachments, buttons, sewing pattern paper, sewing, accessories, etc. have opened on the main street, Nippori Chuo Street.
You can find more shops in the alleys off the main street or on the second floors of the buildings, called "Ura-Nippori", and "Oku-Nippori" located past Otakebashi-street. Each shop has a different range of products, so we are sure you will encounter some interesting and pretty materials if you visit there.
Recently, this area has been visited by many people from abroad and our town is drawing attention as a town loved by people from both Japan and around the world.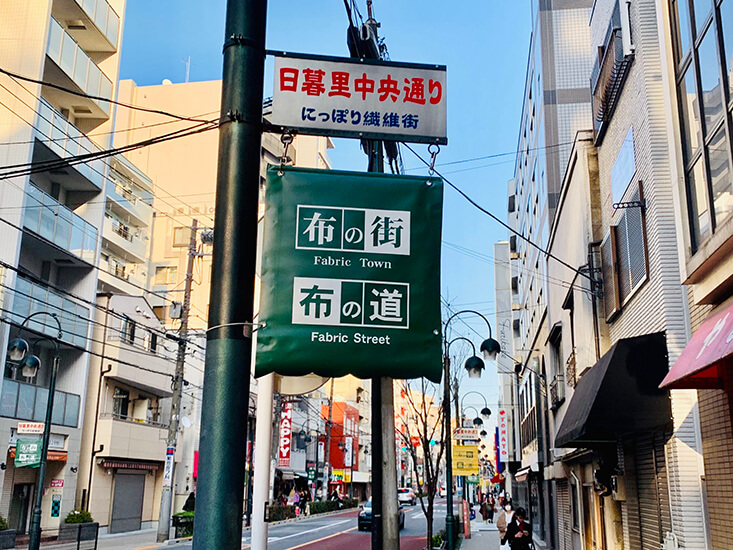 Greeting from the President
There are many fabric shops on both sides of the main street for about 1 km, from Nippori Station East Exit to Nippori Chuo Street. This is why we call our town "Nippori Fabric Town". Our town is very convenient because you can purchase almost all products related to fashion and handcrafts such as Japanese and western clothing, men's and women's clothing, fabric products, small fashion items and accessories.
I am proud that there is no other wholesale district throughout Japan, like Nippori, where more than 90 shops dealing in fabric are gathered in one area.

東京日暮里繊維卸協同組合
Chief Director    齊 藤  雅 久
The history of NIPPORI FABRIC TOWN
Taisho Era
Dawning Age
At the beginning of the Taisho Era, companies dealing with rags and clippings around Asakusa moved in groups to Nippori and Mikawajima areas, which were still almost deserted. After that, textile manufacturers started to move to the Nippori area.
Due to the big earthquake in Taisho 12 (1923) and the Great Fire of Hippori in Showa 38 (1963), Nippori district developed well with land readjustment and a road system in place, and about 20 retail shops set up their business near the Third Nippori Elementary School. On the other hand, around Kanda (Iwamoto Cho), Asakusa(Kotobuki Cho), there were many wholesalers dealing with waste pieces of cloth; second-class rolls of cloth (B/C Tans) or clearance goods from dyeing plants in Wakayama Prefecture, spinning companies in Osaka and big wholesale companies in Horidome, Nihonbashi. Stocking such goods from these wholesalers, dealers of Nippori used to sell waste pieces of cloth, clippings, B/C Tans and over-stocked rolls of cloth from sewing factories .
Showa Era
Period under government control during World War Ⅱ
The Sino-Japan War broke out in Showa 12 (1937) and it escalated into the Pacific War in Showa 16 (1939). Due to supply shortages, the goverment put us under economic control (rationing system) and we had to suspend our business until the end of the War in Showa 20 (1945).
Post war
At the same time, when the War ended, waste pieces of cloth and other goods were released from government control, local dealers and newcomers from clipping dealers got back to their business in Nippori District. They sold concealed goods by the army, army surplus, American second hand clothes, lining cloth and waste pieces of cloth, etc. they continuously improved and expanded their business and laid the foundation of the town.
History of the Union
Showa 23 "Tokyo Fentsu Cooperative " was formed as a private organization.
Showa 26 "Tokyo Fentsu Cooperative" was officially registered as an approved organization.
Showa 31 "Arakawa Rasha Uraji Orishi Shoboku kai" was formed as a private organization.
Showa 44 The two groups shown above were united to form "Tokyo Nippori Fabric Wholesale Cooperatives (fabric wholesale cooperative)"
Heisei Era
"Fashion Gathering"
"Multi-functional Hall" was opened at Hotel Lungwood in February, Heisei 1, which was the cultural facility of Arakawa-ku.
The first fashion show was held as a part of its opening ceremony on February 9th (Fukuno-hi / Clothes Day).
The fashion show is still regularly held, which is also an opportunity for special-course school students who study apparel to show their works.
Nippori Fabric Town support this event to stimulate the Nippori area.
NIPPORI FASHION DESIGN CONTEST
The 6th fashion show was held by "Nippori Seni Gai Kasseika Fashion Show executive committee" in Heisei 18, and its name was changed to "Nippori Fashion Design Contest". It has been held every year since then.
When the 10th Nippori Fashion Design Contest was held, as part of the event, the mascot character of Nippiri Fabric Town was chosen from submissions from the public.
This is how Nippori Fabric Town's mascot character "Nipporin" was born.
Reiwa Era
From now on
We celebrated our union's 50th anniversary.
We will keep on walking, retaining the appearance of the good old days but also matching new trends.
We will take in new information in order to satisfy the needs of customers and to be loved by them. We hope to improve our town furthermore, so please give your continued support and cooperation to Nippori Fabric Town.
Union Information

Name

Tokyo Nippori Fabric Wholesale Cooperatives

Location / Address

4-33-3 Higashi-Nippori, Arakawa-ku, Tokyo 116-0014, Japan

President
Union Members